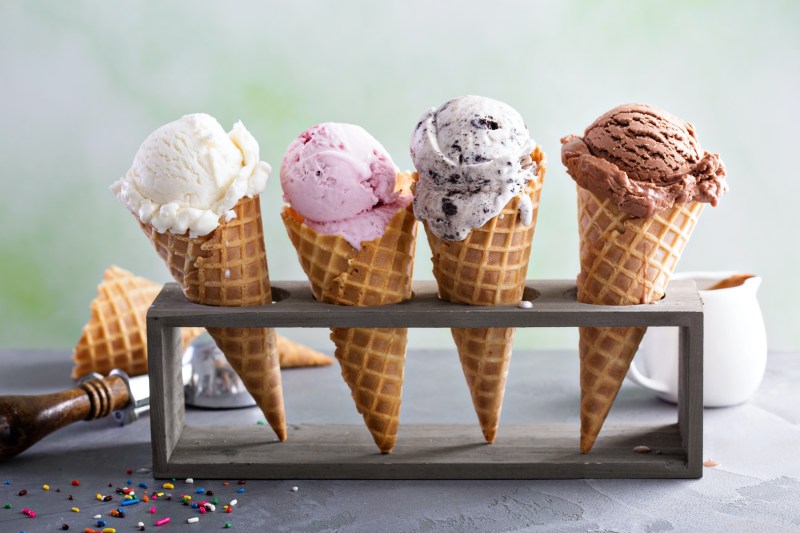 There is no better summertime indulgence than that of homemade ice cream. Once you've made (and then, by no fault of your own, devoured) this special treat, it will be hard to ever go back to the boxed grocery store brand. It's like returning to premade refrigerated cookie dough after making your mother's scratch-made recipe. You just can't. It feels wrong somehow. When you know something can be so delicious, you know what a disservice you're doing yourself by not having the most authentic, best version possible. Ice cream is very much that way. And the wonderful thing is that homemade ice cream is a breeze to make, unlike so many other decadent desserts. The one issue can be finding the perfect homemade ice cream recipe. And that all starts with the ice cream base.
Contents
What is an ice cream base?
What is an ice cream base?
Made with just a few simple ingredients, an ice cream base is the foundation upon which all other flavors are built. And if you have a great one, you can build your layers of flavor in absolutely any way that tickles your fancy. Ice cream can take on flavor and texture with just about anything you please — extracts, fruits, candies, syrups, nut butters, and chocolate chips are just a few ideas to get you started. Just be sure to allow the ice cream base to cool before adding your own touches of creativity. Once you've added your flavorings to the ice cream base, simply churn and enjoy.
The incredibly delicious ice cream base recipe below is from the always amazing Salt and Straw. This popular ice cream brand has, in our opinion, some of the best ice cream on the planet, so we were ecstatic to learn how to create their fantastic ice cream base at home.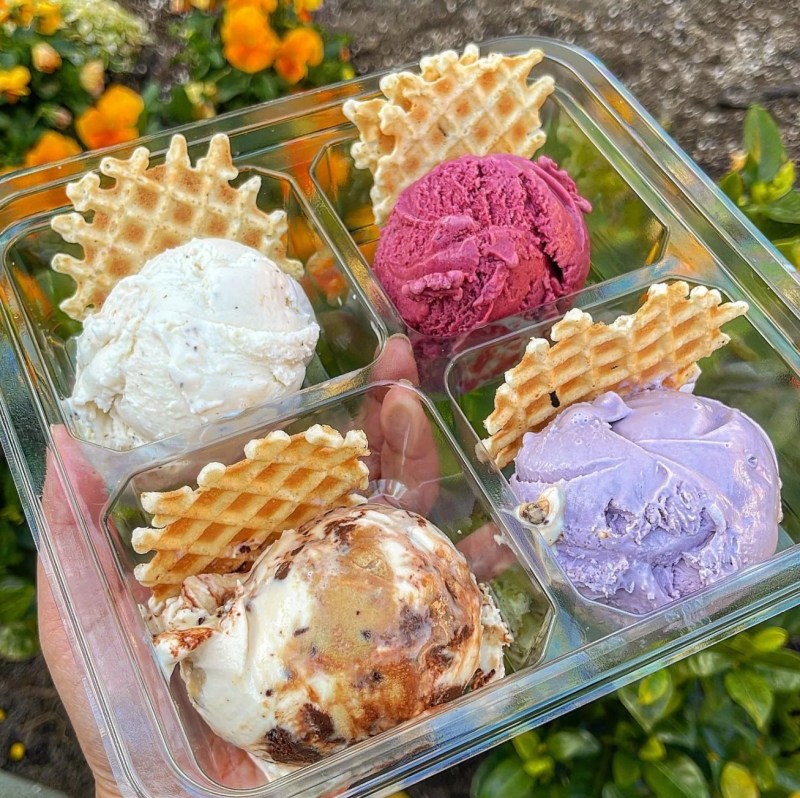 Salt & Straw ice cream base recipe
(From Salt & Straw)
This ice cream base can be stored in the refrigerator for a week or in the freezer for up to three months. When you're ready, simply add your favorite flavorings and pour them into your ice cream maker.
Ingredients:
1 1/3 cups whole milk
1/2 cup granulated sugar
2 tablespoons light corn syrup
2 tablespoons dry milk powder
1/4 teaspoon xanthan gum
1 1/3 cups heavy cream
Method:
Combine the milk, sugar, corn syrup, dry milk, and xanthan gum in a medium pot and stir to combine. Cook over medium heat, stirring until the sugar has dissolved, about 3 minutes. Remove from heat. Add the cream and whisk until fully combined.
Transfer the mixture to a sealed container and refrigerate for 12 hours. The base can be stored in the refrigerator for up to 1 week or in the freezer for up to 3 months.
Pour the mixture into an ice cream maker and churn according to your machine's instructions.
Editors' Recommendations
You need to try this easy creamy pesto pasta salad recipe

The 5 best grilled chicken salad recipes for summer

Chefs reveal their best easy barbecue sauce recipes to up your grilling game

The Chartreuse shortage is real (and here to stay), but we've got some great substitutes

Try these fantastic healthy recipes for a low-cholesterol diet
7 KitchenAid ice cream maker recipes to try right now
It's time to break out the ice cream maker. These are the best recipes for your KitchenAid
The weather is finally warming up and that can only mean one thing: ice cream. Whether you've been churning up your own homemade batches for years, or you're new to the homemade ice cream game, now is the perfect time to get started making absolutely divine, restaurant-quality ice cream in the comfort of your home. Simply create the base, churn it in an ice cream maker, add any extra flavorings, freeze, and let the ice cream harden before digging in.
Making your own ice cream
The most basic ingredients you'll need for making ice cream at home include whole milk, a sweetener of some kind, heavy cream, sea salt, and vanilla extract. You can get as adventurous as you want from there, but the core ingredients are super simple.
We like to use the KitchenAid Ice cream attachment anytime we make homemade ice cream. If you already own a stand mixer like a KitchenAid, the ice cream attachment is a no-brainer. This way, you won't have to spend a ton of money on a completely new device. Just make sure to freeze the bowl of your KitchenAid attachment for about 24 hours beforehand. Here are seven KitchenAid ice cream recipes you should make this summer.
Read more
Esquites is the side dish your spring and summer menus need (and we have a great recipe for it)
All of the incredible flavor of Mexican street corn, none of the mess
If you've ever had proper Mexican street corn, you know that it isn't an exaggeration to say that there's really just nothing better in existence. There's a reason that adorable little kid went viral for singing corn's praises -- everyone can relate. Because, of course, we can. A sweet and golden, freshly harvested piece of early summer corn, slathered in sour cream, cheese, summertime citrus, and delicious spices? No. There's nothing better, and we will die on that hill.
Unfortunately, there's one drawback to this summertime snack. It's messy. Granted, that's also one of the beautiful things about it, but there are certain occasions when that wet, drippy, creamy goodness isn't always welcome. Thankfully, there's an answer to this little problem. Esquites.
Esquites has all the flavor of Mexican street corn, but rather than being served on a stick, it can be served neatly in a bowl, ready to be topped on chips, in a taco, or let's be real -- nothing but a spoon.
How to customize your own
The other beautiful thing about esquites is that the dish is easy to customize for any number of dietary preferences or restrictions. The esquites recipe below, for example, calls for bacon which you could easily leave out. The mayonnaise can simply be swapped for a vegan version if that's your preference. Not a fan of the heat? Go easy on the chilis. So long as the corn has that traditionally perfect char, and it's held together with a creamy, delicious, savory base, you've got yourself a winning dish that will disappear in seconds.
Read more
Meatless meals are good for the planet — Try these tasty recipes on Earth Day
Going meatless doesn't mean going flavorless. Give these recipes a try this Earth Day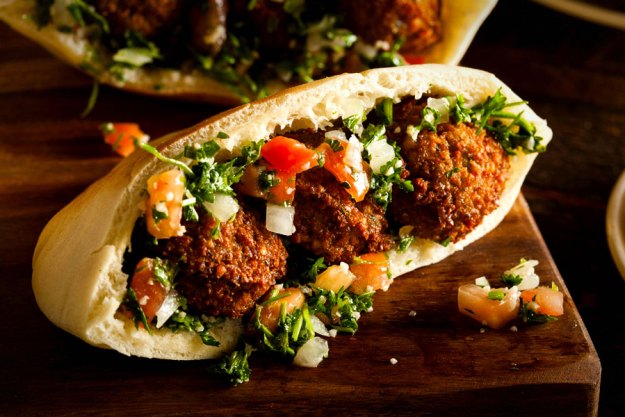 Do you love meat? You're not alone. Whether it's a delicious steak or sizzling, crispy bacon, there's plenty to love about meat. Unfortunately, studies have shown eating less meat could help mitigate climate change, which puts most of us in a conundrum. Meat is delicious, but we really like the environment, too. While there are alternatives — studies have also shown that by 2040, a majority of meat that we eat will either be vegan or lab-grown — youdon't have to go full-on vegan to help ease the strain.
If you love meat too much to give it up completely, even just adopting a vegetarian diet one day a week (or one meal of the day) can help. (As a bonus, it's also beneficial to give your gut a break from the hard stuff.) And what better day to start your new routine than Earth Day? Here's a full day's menu to get you started. Your stomach — and the planet — will thank you.
Read more